November, 2016 – Dr. Jeffrey S. Puglisi of Glenville Medical Concierge Care in Greenwich, CT has accepted an appointment to the board of directors for the American College of Private Physicians (ACPP), a professional society established to advance the model of concierge medicine. An alternative practice model that has grown exponentially in the two decades since its inception, concierge practices, also known as direct, membership or personalized care practices, derive income primarily from periodic (monthly to annually paid) retainer fees rather than insurance-driven reimbursements.
"I'm truly thrilled to be a part of the ACPP," says Dr. Puglisi. "It's my hope that together, we can be a pivotal voice in the world of concierge medicine and leave a legacy that physicians and patients can benefit from for years to come."
Dr. Puglisi, with his partners Steven Mickley, MD and Judith Shea, MD, have been practicing concierge medicine since May 2015, with the opening of Glenville Medical Concierge Care in Greenwich, CT. From the start, patients in the community were enthusiastic about the unique approach and personalized experience offered at the practice, including longer, unhurried visits, same or next day appointments and direct, 24/7 communication with their physician.
"The level of care and availability we've been able to offer patients in our concierge practice has exceeded all our expectations," says Dr. Puglisi. "Patients contact me in a number of ways – in the office, or by cell phone or email – and I can be there for them when they need me most. It's a model that's enormously satisfying to both physician and patient, and there's nothing I would like to see more than for this type of care to become the norm rather than the exception."
Thomas LaGrelius, MD, President and Board Chair of ACPP, and owner of Skypark Preferred Family Care, a concierge medical practice in Torrance, CA, says the model continues to gain traction because it helps physicians retain control of their profession while providing a personalized and welcoming medical home for patients. As concierge practices become increasingly mainstream, ACPP aims to connect the growing group of physicians in its ranks, and serve as their advocate with state and national government, provide a variety of useful services to them, and help with networking, credentialing and marketing. While ACPP's bylaws and policies prohibit directly assisting physicians in conventional practices to convert to direct or concierge practices, the organization will help identify appropriate consultants, attorneys and conversion companies.
"At ACPP, we believe that the relationship-based care possible in concierge medicine will ultimately prove to be the best way to lower costs, enhance quality, prevent medical errors and improve satisfaction," says Dr. LaGrelius. "Our board members are instrumental in helping us share that message with key influencers and policy makers responsible for shaping the healthcare landscape. Jeff Puglisi is deeply committed to growing and empowering our group, and with members like him on board, we are confident of only the brightest future for ACPP."
"We congratulate Dr. Puglisi on his new appointment, and wholeheartedly support his efforts to enhance the profile and reach of concierge medicine among all who can benefit from its many attributes," says Terrence Bauer, CEO of Specialdocs Consultants, LLC. "This includes employers, payers, and patients across the country, and most notably, independent physicians seeking a transformative way to practice medicine."
About Jeffrey S. Puglisi, MD
Jeffrey S. Puglisi, MD, Board certified in Internal Medicine, is a founding partner of Glenville Medical Concierge Care, located in Greenwich, CT. Dr. Puglisi's specialized clinical interests are in men's health and cardiovascular disease prevention. Named a 'Top Doc' in Fairfield County and NY metro area in 2015, 2016 and 2017, he earned additional recognition this year as one of the Leading Physicians of the World by the International Association of Healthcare Professionals. He was named one of Concierge Medicine Today's annual 'Top Doctors in Concierge Medicine' for 2016, a distinction held by less than one percent of physicians across the country each year. He has served as President of the Greenwich Medical Society since 2006 and was recognized as a finalist for the Melville G. Magida Humanitarian Award in 2010. He earned his undergraduate degree from Franklin & Marshall College, medical degree from Hahnemann University School of Medicine, and completed his residency in internal medicine at Mount Sinai Hospital in New York, where he served as chief resident. For more information, call Glenville Medical Concierge Care at (203) 531-1808 or visit www.glenvillemedicalconciergecare.com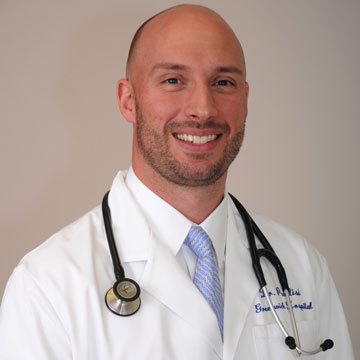 A voice for concierge medicine. Jeffrey Puglisi, MD, Glenville Medical Concierge Care, joins the board of American College of Private Physicians, a professional society established to advance the model of membership or concierge medicine.